When it comes to having emotions of stress, anxiety and fear, cats tend to show different behaviour. Hiding under the bed, grooming itself so much to leave bald spots on its furry body, getting scared when petted by the owner, etc could be the visible signs for nervous cat behaviour. A lot of people wonder why is my cat so scared of everything? "If you have adopted a feral or wild cat, chances are she's going to be more nervous than the domesticated one", as stated by Animal planet.
Cats love their space
The first thing that you can try with your nervous kitty is to give her its own space and time. Let her be aware of and comfortable with its surroundings. Cats love to roam around and see for themselves, which place is better to purr all day and feel cosy. ( Read about Why do cats follow you into the bathroom?)
Avoid showing too much love
Don't try to exert too much of your love and desires upon the cat in one go. Cats have stronger instincts and reflexes which makes them super alert about sudden movements. So, it is advisable to let the cat familiarize with your odour and be familiar with your company. (Read about How to make your cat more social? )
Playing with your cat
Playing with your pet kitty could also prove to be a stress-busting mechanism for both you and your cat. Cat toys like wands and strings and even simple things like woollen ball etc. can be used to bring forth a friendly gesture. ( Read about Why do cats feel unloved? )
Cat Trees at home
Having cat trees at home can also prove to be a safe and reassuring place for your cat as they like to climb high places where they feel non-threatened and away from danger. Nowadays, nervous cat medication has also come into the picture. Rescue remedy herbal extracts when poured into her drinking water or apply onto her ears, can help ease anxiety. (Read about How to increase the life expectancy of your cat?)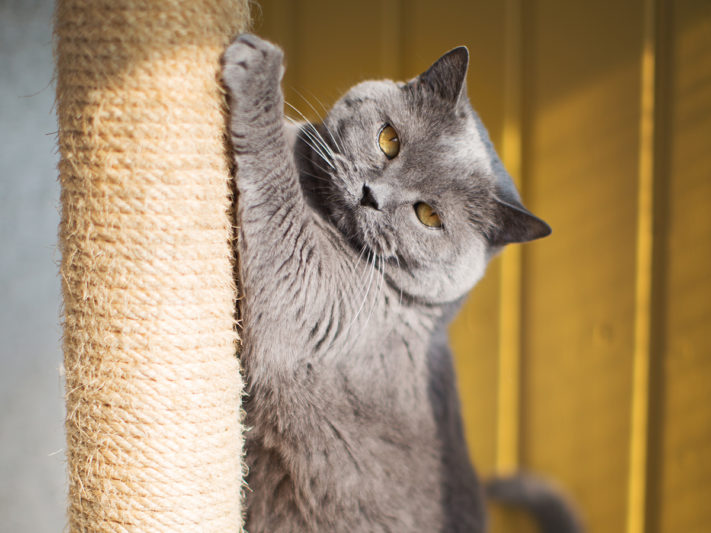 Tasty Treat
Give your kitty a tasty treat with a thrill of hunting for it around the house. This will not only help the cat to move around in the house space but also move past the feeling of nervousness and threat.